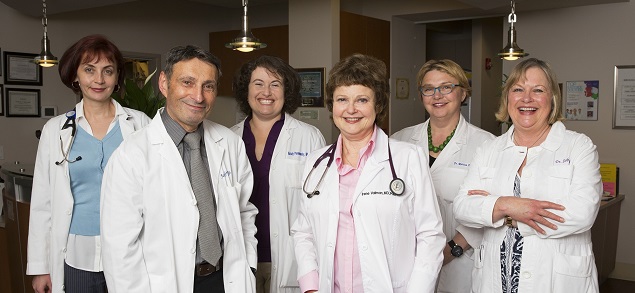 Gynecology for Bellevue, Redmond
At AFM, our goal is to provide you with a well-rounded suite of services for all your medical needs. As part of this commitment, our Gynecology department embodies care and compassion, whether this entails something as simple as an annual exam, or more in-depth procedures such as operative hysteroscopies.
We do not, however, provide prenatal care. If you are pregnant and you are looking for an Obstetrician to follow you for pregnancy, please look at the websites for Evergreen Healthcare and Overlake Medical Center for Ob care providers. If you are having spotting in early pregnancy, we can see you and evaluate you at AFM to try to determine if the pregnancy is in the correct location and see if you are miscarrying. We do have limited ultrasound services available only on certain days of the week. Please ask about this if you are having early pregnancy complications. Dr. Zabriskie does NOT do prenatal care.
Services we do provide include:
Annual exams
Birth control consultations
Evaluations for abnormal pap smears
Colposcopies
Consultations for abnormal bleeding
IUD insertions
Gardasil immunizations
Menopause consultations, including bioavailable hormone prescribing
Dr. Zabriskie is excited to announce that she is now trained to insert the Nexplanon long acting reversible contraceptive for women. This single rod contraceptive hormone is inserted in the upper arm and is good for 3 years. Please contact the office for a consultation with Dr. Zabriskie if you are interested in learning more about this.
Vinette Zabriskie, MD

With more than 30 years of experience, Dr. Vinette Zabriskie joins AFM as the head of Gynecology. Dr. Zabriskie is passionate about educating her patients on the best methods of managing their conditions, whether this be something as simple as a therapeutic massage, or as in-depth as surgery.
Dr. Zabriskie is also deeply involved with the mind/body/spirit connection to illness, and has studied and taught meditation classes for over 13 years. Please go to healingtohealth.com to look at options on meditation, reiki treatments and Emotion Code treatments.
Background
Dr. Vinette Zabriskie graduated from the University of Arizona College of Medicine in 1978, and completed her four-year Ob-Gyn residency at the Arizona Health Sciences Center in Tucson, AZ. Dr. Zabriskie relocated to Seattle in 1982, where she worked as a clinical assistant for the University of Washington, and specialized in women's pelvic infections. Since 1985, she's followed her true passion for helping patients learn the best approaches for achieving and maintaining optimum health.
Certifications
Dr. Zabriskie is Board Certified in Obstetrics and Gynecology.